Newsroom
Jul 29, 2021



Information
Applications Open for the 2nd Phase of Accelerator Program presented by WingArc1st
Accelerating the growth of startups in ASEAN by supporting their data utilization
WingArc1st Inc.
We conducted WingArc1st 3-month Data Empowerment Accelerator program for the Singapore market from April 6th to June 29th. This is the first accelerator program focused on data utilization in Singapore and supports the growth of startups that apply for the program by helping them accelerate their business through the use of our expertise and technology in data utilization. We are also pleased to announce that we are now accepting applications for the second phase of this program.
■About the 2nd Phase of Accelerator Program presented by WingArc1st
- Application Deadline: September 12th, 2021 (Singapore time)
- Program Period: October 5th, 2021 to January 27th, 2022.
- Who Should Apply: Startups founded in Singapore or ASEAN who wish to make a use of data analytics dashboards for their business.
- How to Apply: Please check the details and apply from the site below
https://www.wingarcaccelerator.com/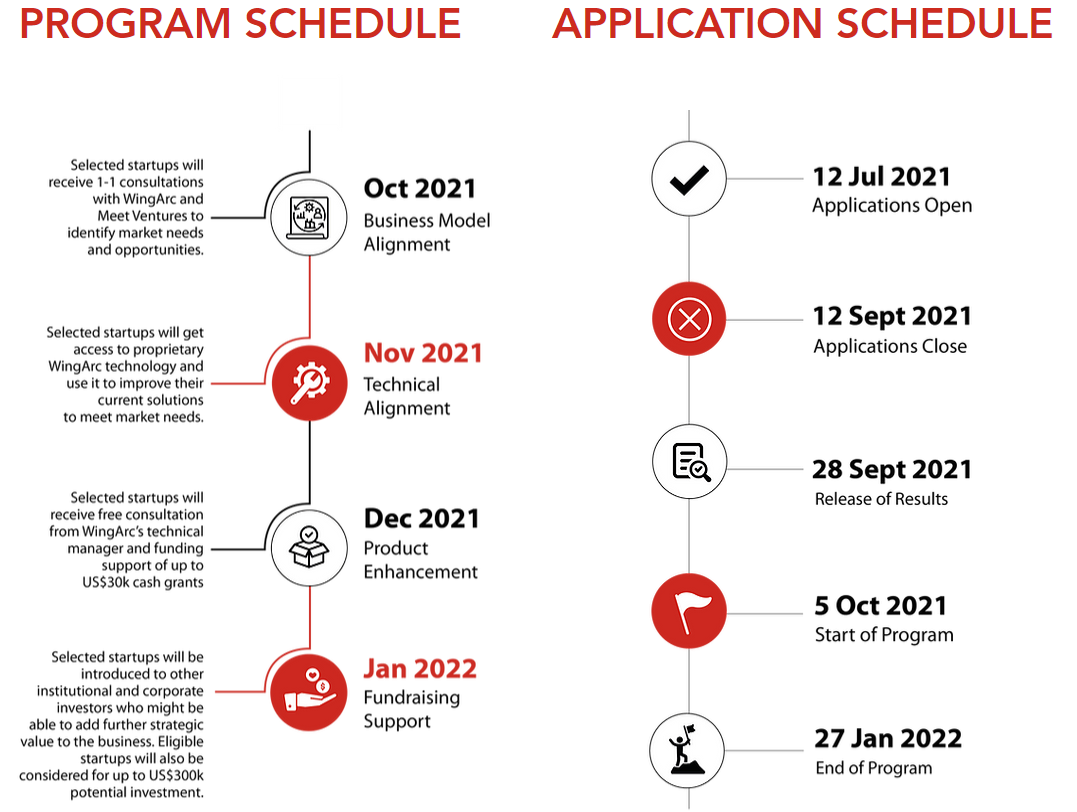 〈About the Program〉
WingArc will walk through the process of creating business concept, business strategy planning, numerical planning and dashboard development along with the selected startups. The program mainly consists of the following three components.
1) Business Ideation: With creating business opportunities and adding values to customer services as the goal, we will make growth plans for the startups and collaboration plans using our technology
2)Technical Alignment: We will discuss the implementation and the design of the BI dashboard "MotionBoard" to realize the growth and collaboration plans.
3)Master Class: Professionals from MeetVentures, a venture capital company and business partner of this accelerator program, will give lectures on various topics necessary for the management of startups.
〈About the Public Demo Day〉
After executing the above program, the startups will present the results to institutional investors in Singapore and ASEAN. On the previous public demonstration day, about 170 institutional investors participated to explore new investment targets.
■About the 1st phase of Accelerator Program
44 companies from 12 countries had applied for the program, most of applicants were based in Asia including Japan. After reviewing applications and interview screening, 3 companies, amtiss (Indonesia), Mantheos (Singapore) and Zeemart (Singapore) had been selected.
〈Participants of the 1st Phase〉(alphabetical order)
amtiss

(Headquarter in Indonesia, Founded in 2016)Provides a cloud service that attaches IoT sensors to heavy equipment used in mines and construction sites to monitor the equipment performance and visualize the usage status of maintenance equipment.
https://amtiss.com/

Mantheos

(Headquarter in Singapore, Founded in 2020)Provides data aggregation solutions that efficiently collect, clean and provide people data and corporate data (Web-Scraped Data) that are made publicly available, mainly from LinkedIn.
https://www.mantheos.com/about/

Zeemart

(Headquarter in Singapore, Founded in 2017)Food & Beverage Procurement Cloud Platformer in Singapore. Builds the food supply chain through mobile applications.
https://www.zeemart.asia/about
〈Feedback from Startups〉
"Multiple investors and partners became interested in our business through continuous mentorship support and external PR through the public demo day."
"The technical support in designing the strategy was very helpful."
"It was very meaningful to have a discussion with WingArc1st about how to use and analyze BI tools."
We are looking into hosting more accelerator programs for startups in the future and we want to make the 2nd phase of this program better than the previous one. Through this program, we will support startups mainly in ASEAN and expand our partner network.
Contact on Products and Services:
WingArc1st Inc.
Roppongi Grand Tower, 3-2-1 Roppongi, Minato-ku, Tokyo106-0032
TEL : 03-5962-7300
FAX : 03-5962-7301
E-mail :
*Company names and products names enlisted in this Press Release are trademarks or registered trademarks of each company.