Newsroom
May 11, 2022



Press Release
MotionBoard Ver. 6.3, a BI dashboard with camera integration functionality, will be available on 11 May.
A combination of numerical data and camera images enable motion analysis and remote site supervision at manufacturing and construction sites.
WingArc1st Inc.
WingArc1st will start offering MotionBoard Ver. 6.3, the latest version of its BI dashboard with the No. 1 market share in Japan *1, which enables data-based decision making and actions.
In the global uncertainty caused by the rapidly changing international situation, the manufacturing industry is required to promote digital transformation (DX) as well as to strengthen resilience in order to prepare for multifaceted risks. Much of the focus of digitalization has concentrated on enhancing the collection and linkage of data, prediction and forecasting through AI, and the acceleration of product development through 3D design and simulation. However, remote operations and other remote initiatives are also attracting attention *2.
MotionBoard has been used as a data utilization tool focusing on numerical data in a variety of situations, and across multiple industries. The latest version of MotionBoard enables the use of video data combined with camera images. Data collection and linkage in the manufacturing and construction industries will allow for more precise understanding of actual conditions and remote site supervision, as well as analysis of human behavior, which has been difficult to quantify.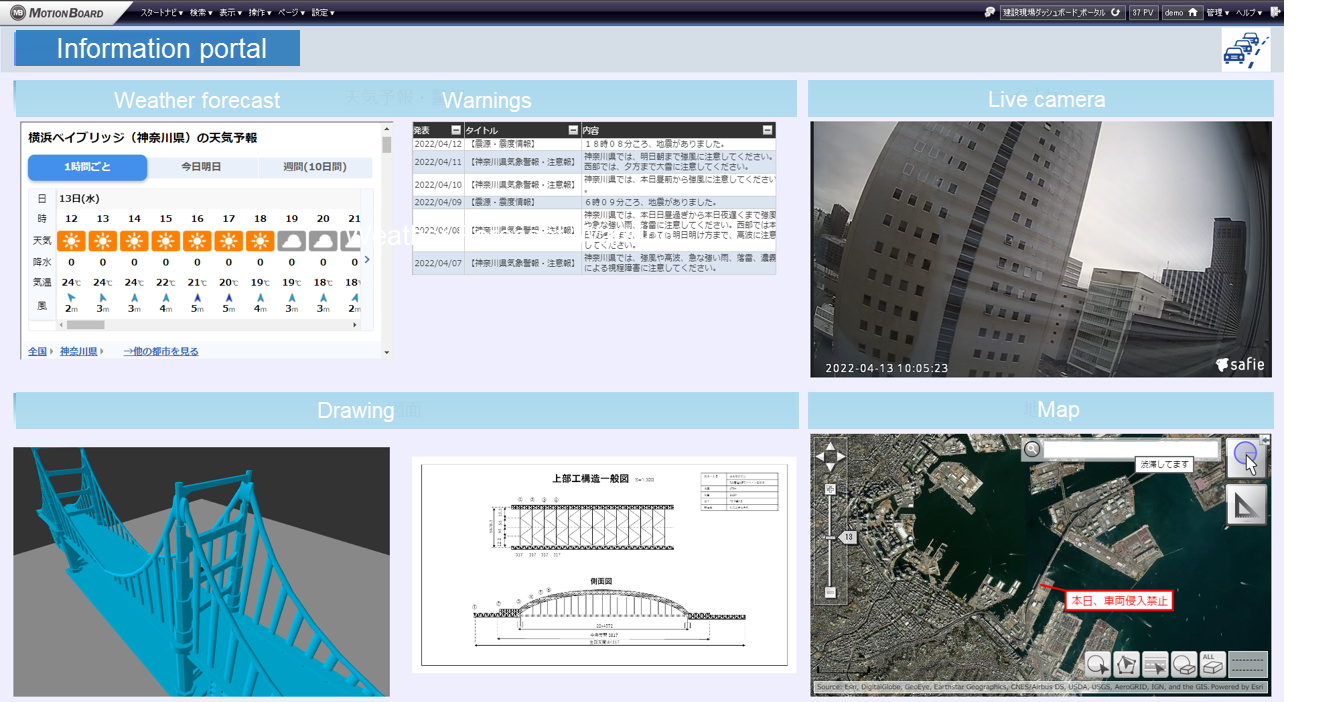 MotionBoard is available as a cloud service and an on-premises product. The cloud service is priced from 30,000 JPY per month (10 users, tax not included). The on-premises product is priced at 60,500 JPY per month (10 users, tax not included) for a subscription license.
Major Enhancements: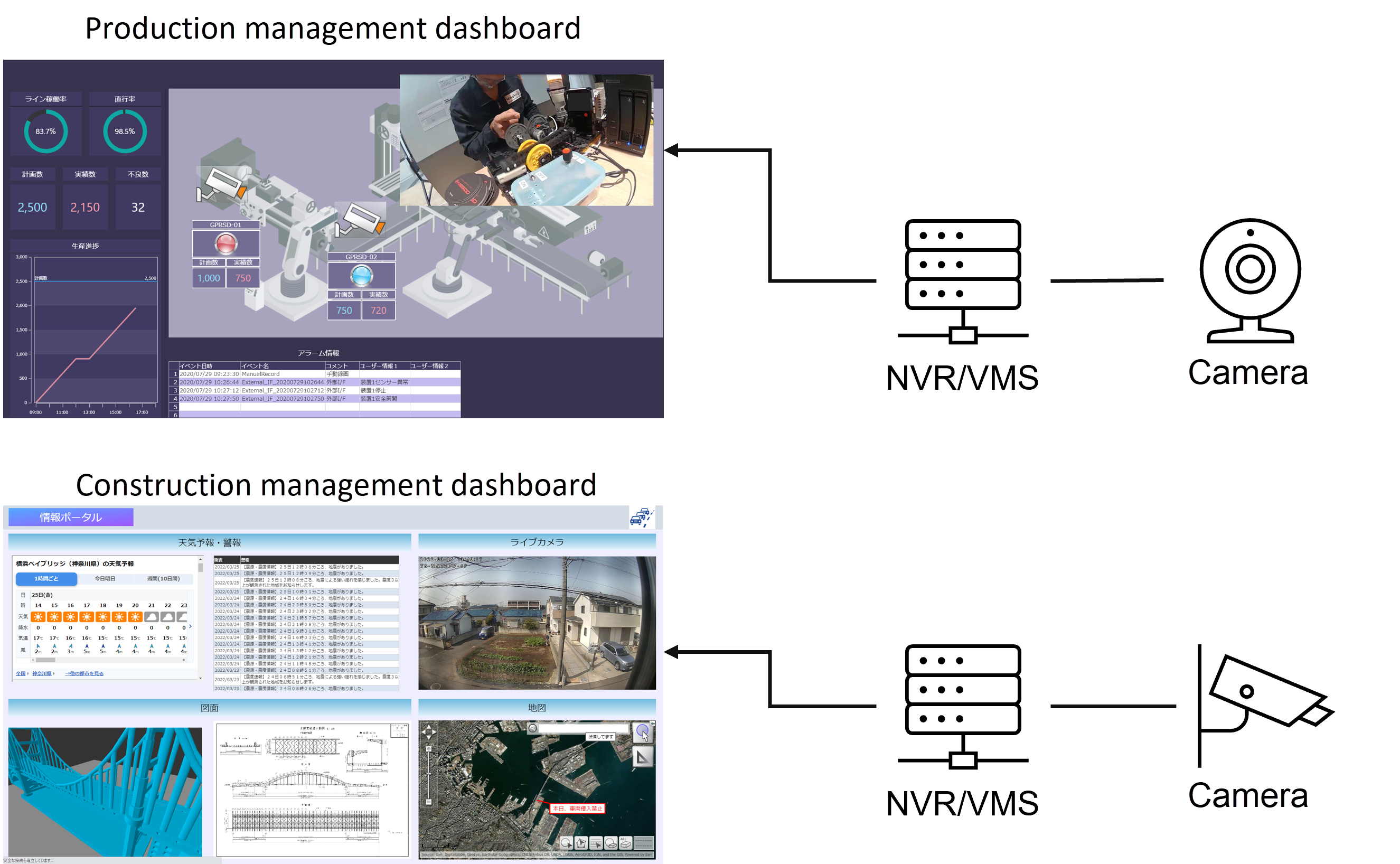 Camera Integration Function
It is now possible to acquire video from an NVR (Network Video Recorder) or VMS (Video Management System) and display it on the MotionBoard dashboard and instantly check the video images at the time of an event detected by numerical data. *4 In addition, MotionBoard Cloud enables cameras to be directly connected to record, save, and playback video, eliminating the need to install, operate, and expand storage and NVR servers for storing video, and allowing video to be viewed over the Internet.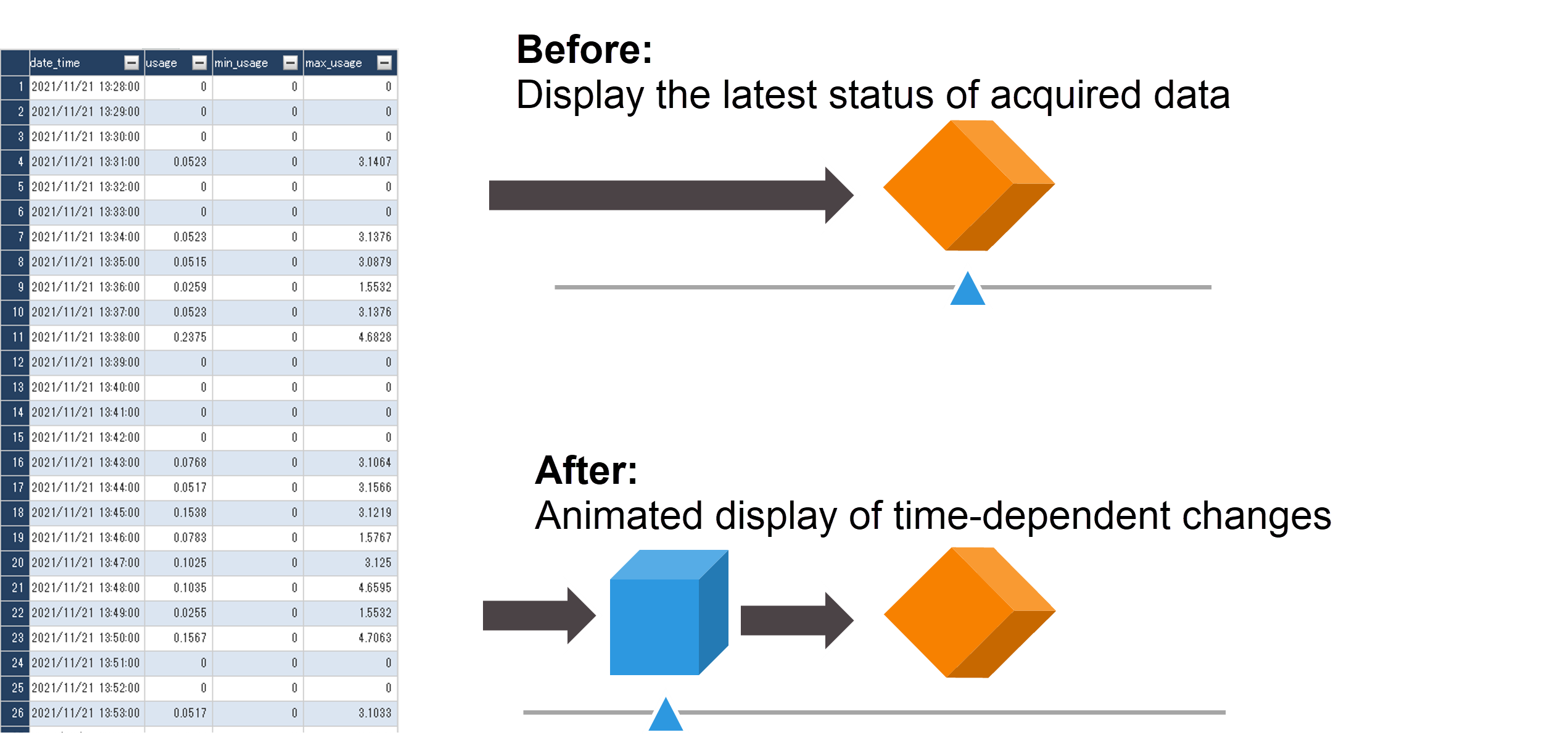 3D Map Enhancements
Changes in time series, including past data, can now be represented in 3D. This allows you to visualize the status of changes in the quantity of goods at manufacturing sites and warehouses, going back to a specified time.

Enhanced Design Document Output Function
Differences due to changes in dashboard settings can now be captured in the design document. This increases productivity in dashboard development and maintenance.
Here's an endorsement from Yamaha Corporation, who has tried MotionBoard Ver. 6.3:
Congratulations on the release of MotionBoard Ver. 6.3. I have especially high expectations for the camera integration function. I feel that the integration of performance data and videos from the factory will enable us to make rapid progress in factory improvement and work analysis. I am convinced that the evolution of camera integration and 3D maps will make it easier to reproduce actual factories in digital space and accelerate production DX with digital twinning of factories through MotionBoard 6.3.
Satoshi Miyata
Yamaha Corporation
MotionBoard Ver. 6.3 Online Seminar

We will hold an online seminar to introduce MotionBoard Ver. 6.3 on 10 June. Daigo Kobayashi, an evangelist from our company, will use the dashboard screen to show how camera images can be used in the manufacturing and construction industries.

Date/Time: 10 June 2022 14:00-14:40 (JST)
Visit our site for detail: https://info.wingarc.com/public/seminar/view/27586 (Japanese)
*1 ITR "DBMS/BI Market 2021" Data Analysis/Reporting Market: Sales Trend and Share by Vendor
*2 Ministry of Economy, Trade and Industry, Ministry of Health, Labor and Welfare, and Ministry of Education, Culture, Sports, Science and Technology, "Outline of the 2021 Manufacturing White Paper (FY2020 Measures to Promote Basic Manufacturing Technology)" https://www.meti.go.jp/report/whitepaper/mono/2021/pdf/gaiyo.pdf (Japanese)
*3 Source: Weathernews
*4 NVR and VMS that can be integrated are Milestone XProtect® (Milestone Systems) and Safie (Safie Inc.)
Contact on products and services:
WingArc1st Inc.
Roppongi Grand Tower, 3-2-1 Roppongi, Minato-ku, Tokyo106-0032, Japan
TEL : 81-3-5962-7300
FAX : 81-3-5962-7301
E-mail :
* Company names and products names enlisted in this press release are trademarks or registered trademarks of each company.