Newsroom
Jun 16, 2022



Press Release
invoiceAgent AI OCR integrated with LINE CLOVA OCR
Enhanced data conversion of irregular forms supports streaming billing operations in the accounting department and complying with the invoice system
WingArc1st Inc.
WingArc1st is pleased to announce that invoiceAgent AI OCR which converts business forms into data through highly accurate character recognition, has been integrated with LINE Corporation's CLOVA OCR. The solution will be available in Japan on June 20 (JST) to support streamlining of accounting operations and compliance with the invoice system and the Electronic Books Preservation Act.


CLOVA OCR is the world's highest level AI OCR that has been highly evaluated for its reading and recognition accuracy, winning No. 1 in the world in four areas at international conferences*1 on document analysis and recognition. CLOVA OCR has products for regular, specific, and irregular form types, and we selected the specific-invoice type.

This integration enables the reading of invoice-specific items without prior configuration or definition, facilitating data conversion of invoices in a variety of formats and promoting efficiency and DX in accounting operations. We will ensure early operation in anticipation of the invoice system to be introduced in October 2023 in Japan, as well as the search requirements of the Electronic Books Preservation Act and proper preservation.

invoiceAgent Documents which will be released on the same day, enhanced integration with the cloud content management system, Box and improved federation functions to increase the convenience of document collaboration and sharing within a company and among group companies.
Key functions:
1. Enhanced data conversion of irregular forms: Integration with CLOVA OCR
CLOVA OCR (invoice-specific) converts scanned or electronic documents to data. While the previous function required advance settings such as position specification and item specification, the new function allows you to convert invoice items to text data simply by reading the target document. This will facilitate the data conversion of invoices in different formats, enabling early operation in anticipation of the invoice system to be introduced in October 2023. It also enables accurate data conversion and electronic storage of the three items required as record items for the search requirements of the Electronic Books Preservation Act: transaction date, amount, and partner information.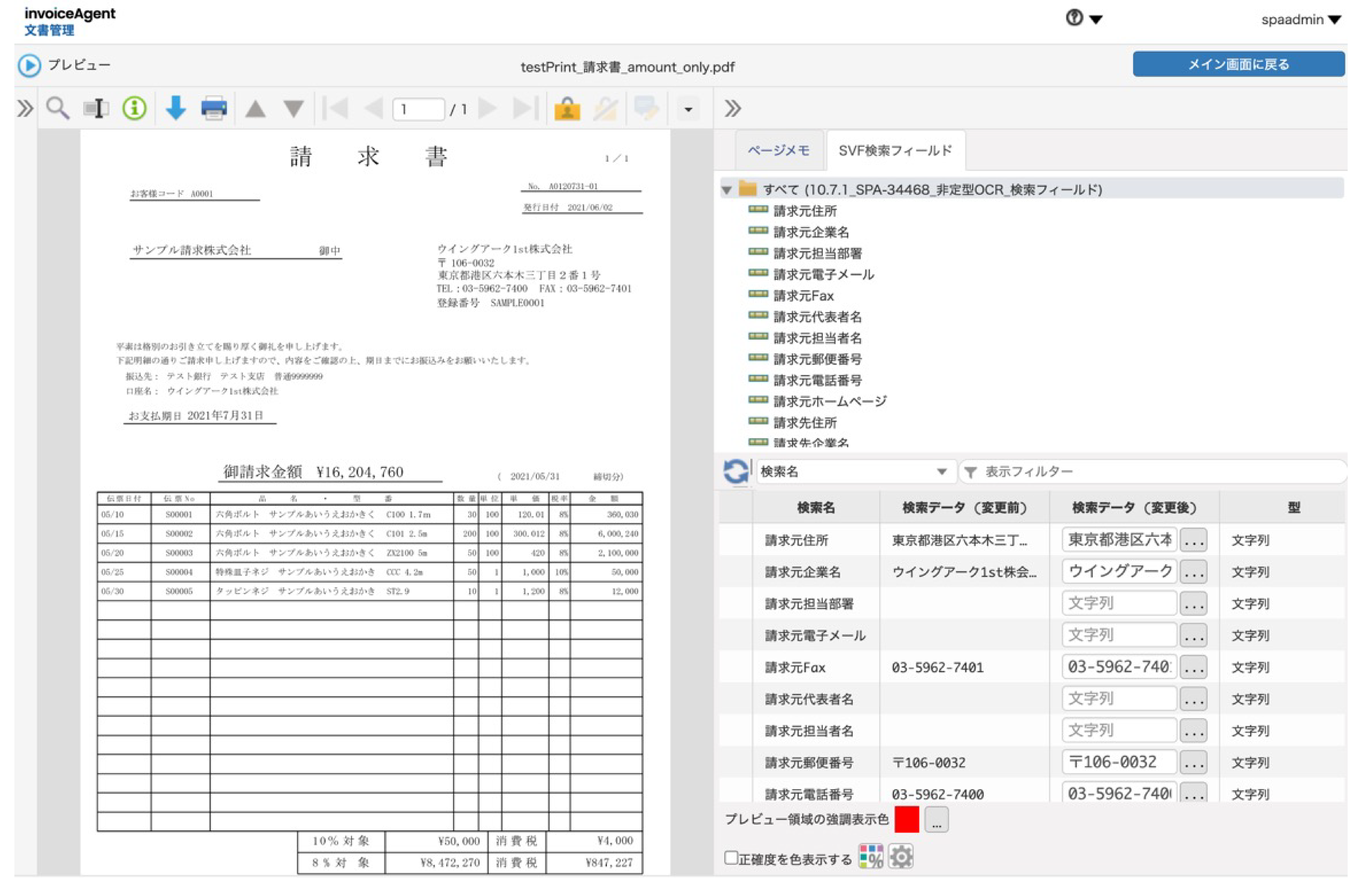 2. Integration with Box documents
Documents stored in the Box can be uploaded and registered to invoiceAgent Documents by events on the Box side and stored and time-stamped. *2
3. Federation enhancements
When using the Federation function, which enables document sharing and manipulation among invoiceAgent Documents, three custom properties (transaction date, transaction amount, and partner name) for the document sharing source can be registered at the time of archiving to comply with the Electronic Books Preservation Act.
4. Batch entry and update of the values in the custom properties in multiple documents.
With the previous function, you could update custom properties in a batch if the values were identical among the files, however if the values are not the same, you needed to open a file and edit it one by one. The implementation of this feature will improve convenience by enabling batch entry and update of transaction dates.
Mr. Shinichiro Isago of LINE Corporation has provided an endorsement for this announcement:

We are very pleased that WingArc1st, which boasts the No. 1 share of the business document market in Japan, has adopted CLOVA OCR. Now that the invoice-specific version of CLOVA OCR can be used with invoiceAgent AI OCR, which is already compliant with the Electronic Books Preservation Act revised in January this year, it is now possible to store paper invoices in compliance with current regulations without any complicated work. We are confident that this collaboration will contribute widely to the needs of many companies that are under pressure to respond to the revision of the Electronic Books Preservation Act and the introduction of the invoice system. We will continue to work together with WingArc1st to help reduce the workload of companies.
Shinichiro Isago
LINE Corporation executive officer, Line AI Company CEO

■ invoiceAgent Documents
invoiceAgent Documents is a document management solution that can sort, store, and search all types of business forms and it can be integrated with other systems. It realizes secure electronic document management that complies with the Electronic Books Preservation Act in Japan, and promotes cost reduction, enhanced governance, and a paperless office environment.
https://www.wingarc.com/product/ia/documents/ (Japanese)
■ invoiceAgent AI OCR
invoiceAgent AI OCR is a form data conversion solution that can read and convert printed and handwritten text into data with high accuracy. Its unique processing functionality improves the accuracy of system input and reduces the cost of visual checks, thereby increasing the productivity of the person in charge of the business.
https://www.wingarc.com/product/ia/aiocr/ (Japanese)


*1 ICDAR: As of 29 March 2019
*2 This function is only available for the cloud licenses of invoiceAgent Documents and invoiceAgent AI OCR.
Contact on Products and Services:
WingArc1st Inc.
Roppongi Grand Tower, 3-2-1 Roppongi, Minato-ku, Tokyo106-0032, Japan
TEL : 81-3-5962-7300
FAX : 81-3-5962-7301
E-mail :
*Company names and products names enlisted in this Press Release are trademarks or registered trademarks of each company.