Newsroom
Aug 5, 2022



Press Release
updataDX22 will be held in Tokyo, Japan
WingArc1st Inc.
WingArc1st will hold updataDX22 on 12 to 14 October 2022 in a hybrid format of online and at a venue in Tokyo.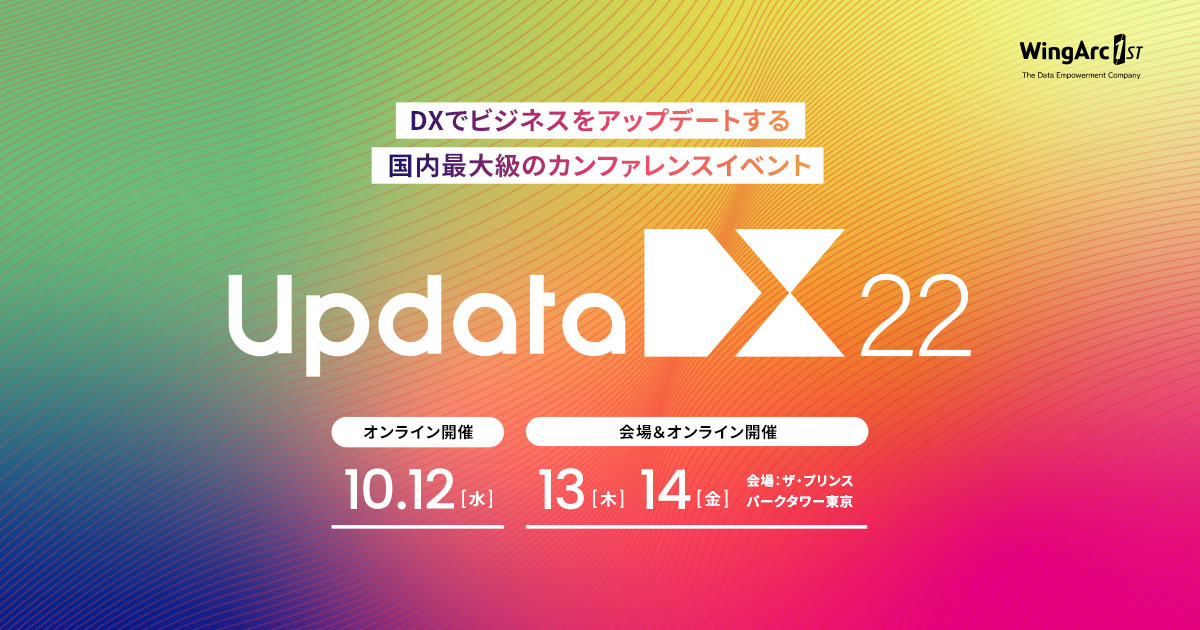 updataDX22 is a business conference that delivers the latest topics and the world built by UPDATA®*, which updates business with data and more than 10,000 people attended last year's event, updataNOW. We see DX not as a purpose but as a means to create the future, and this conference provides an opportunity for participants to think about "what DX means in the new era and "UPDATA".
In 2022, the first day of the conference will be streamed online, and from the second day, a hybrid event will be held at the conference venue, bringing together companies, leaders, and top runners representing various industries and fields. During the event, in addition to more than 60 sessions in the convention center and an exhibition area where more than 30 companies will exhibit, there will also be a stamp rally, a relaxing corner, and other events where visitors can enjoy a real venue and experience a real experience. For details, please visit our event website.
Event overview

Event name: updataDX22
Date: 12 to 14 October 2022
Format: Hybrid (online and offline)
     12 October: Online only (Live streaming)
     13 and 14 October: Offline + live streaming
Venue: The Prince Park Tower Tokyo (4-8-1 Shiba Koen, Minato-ku, Tokyo Japan)
Admission fee: Free
Session contents: Keynote speeches, case studies, guest speeches, and presentations on WingArc products and solutions.
Registration: Please register on the event website below.
URL: https://www.wingarc.com/updata/2022/ (Japanese)
12 October
Opening Day (online only)

Starting with the opening session, we will introduce advanced case studies, trends, and the latest information on our solutions for ideal DX.

13 October
Business Trend Day

We will deliver the latest trends in DX and the realities of corporate transformation through the proposals of corporate leaders and experts who are working on business transformation in various fields.

14 October
Solution Day

What should be done to realize DX? You will be able to learn about the latest information on WingArc 1st's business form and data utilization solutions, as well as DX solutions and methods using advanced technologies from a variety of companies, including practical DX case studies from user companies in various industries. You can also learn about DX solutions and methods using advanced technologies provided by various companies.
(*) UPDATA is a coined word of UPDATE and DATA, which expresses our desire to update the world and ourselves with data.
Contact on Products and Services:
WingArc1st Inc.
Roppongi Grand Tower, 3-2-1 Roppongi, Minato-ku, Tokyo106-0032, Japan
TEL : 81-3-5962-7300
FAX : 81-3-5962-7301
E-mail :
*Company names and products names enlisted in this Press Release are trademarks or registered trademarks of each company.