Newsroom
Sep 14, 2022



Information
WingArc Accelerator Day was held in Singapore on 2 September. Applications for the 4th Accelerator Program now being accepted.
WingArc1st Inc.
WingArc1st held the WingArc Accelerator Day on 2 September at the Marina Bay Sands Expo & Convention Centre in Singapore. More than 100 visitors, including startups, investors, government agencies, and business partners, were invited to attend the event, where lectures, panel discussions, and networking were held under the theme of Data Empowerment.
WingArc Accelerator Day aims to build the Data Empowerment community as a business hub to accelerate the growth of high-potential startups and blue-chip companies in the ASEAN region. As a dynamic Japanese software firm, we have a track record of business expansion through our Accelerator Program on Data Empowerment.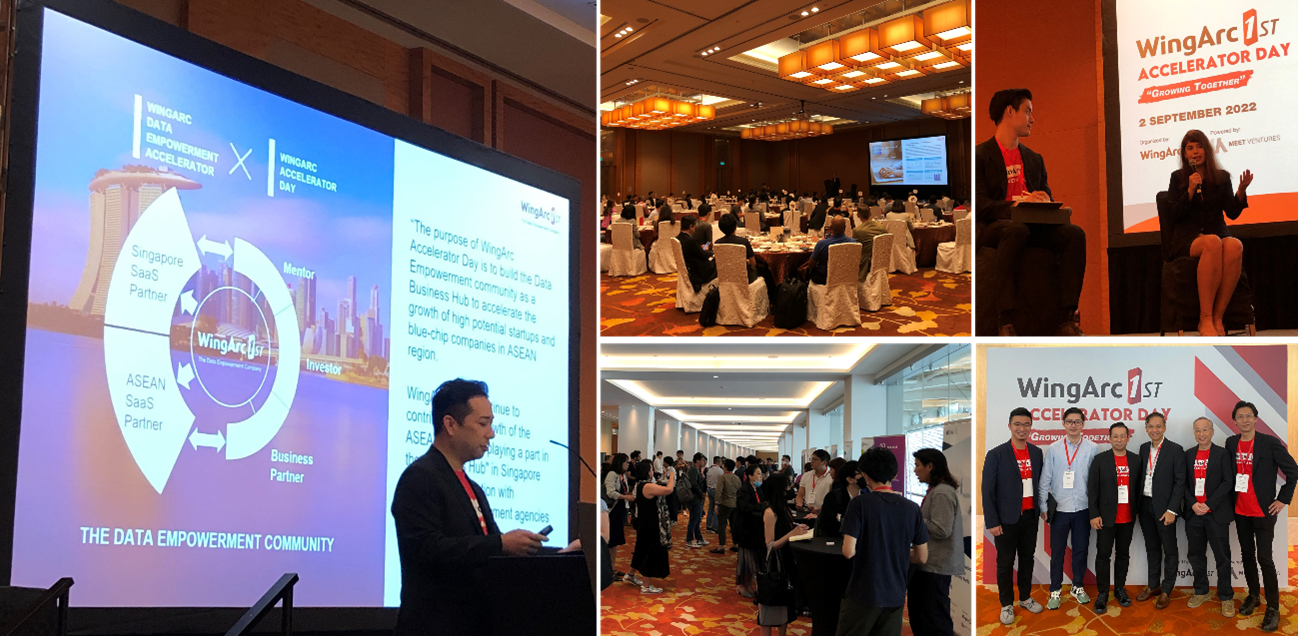 On the same day, WingArc also announced the fourth phase of the Accelerator Program. The program period will run from November 2022 to February 2023 and is currently accepting applications.
The accelerator program focuses on Data Empowerment in Singapore and supports the growth of startups that apply for the program by helping them accelerate their business with our technology and expertise in Data Empowerment.
The 4th WINGARC DATA EMPOWERMENT ACCELERATOR
- Application Deadline: 18 October 2022 (Singapore time)
- Program Period: 8 November 2022 to 14 February 2023
- Who Should Apply: Startups founded in Singapore or ASEAN who wish to make use of data analytics dashboards for their business
- How to Apply: Please check the details and apply at https://www.wingarcaccelerator.com/
WingArc1st is sponsoring to Startups Showcase at TECH WEEK Singapore, taking place on 12-13 October 2022.
https://www.agorize.com/en/challenges/tech-week-2022/pages/sponsors
Contact on Products and Services:
WingArc1st Inc.
Roppongi Grand Tower, 3-2-1 Roppongi, Minato-ku, Tokyo106-0032, Japan
TEL : 81-3-5962-7300
FAX : 81-3-5962-7301
E-mail :
*Company names and products names enlisted in this Press Release are trademarks or registered trademarks of each company.