Newsroom
Sep 20, 2022



Press Release
invoiceAgent Documents enhances integration with Box
Enhanced support for the Electronic Books Preservation Act and invoice system for Box users

WingArc1st Inc.
WingArc1st will start offering invoiceAgent Adapter for Box on 20 September 2012 in Japan. invoiceAgent is a document management solution that enables distribution, storage, retrieval, and integration with other systems for all types of forms.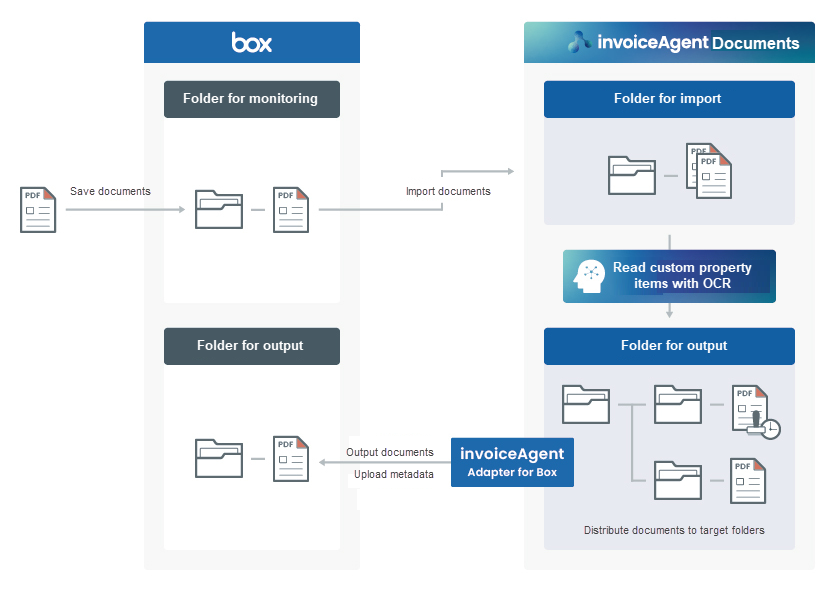 WingArc1st enabled original documents to be stored in Box in 2020. In response to the growing importance of governance over digital documents, it has further enhanced the functionality of invoiceAgent. The latest version of invoiceAgent Documents can add time stamps and search data read by AI OCR to documents stored in Box, facilitating compliance with the Electronic Books Preservation Act and the invoice system.
Strengthening integration
・Improved document search by automatically reflecting metadata
Custom document property information for invoiceAgent Documents can be automatically reflected in metadata necessary for searching in Box and automatically output to the Box target folder. Documents imported from Box to invoiceAgent Documents can be efficiently assigned custom property information, which is automatically reflected as metadata in the documents in Box. This improves the searchability of items such as the transaction date, which is required by the Electronic Books Preservation Act. The system can also be used to inquire about the qualified invoicing business number, which is required for compliance with the invoice system.
・Automatic output of invoiceAgent documents to Box
It is now possible to automatically output documents from invoiceAgent Documents to a designated folder in Box. With the rich support functions of invoiceAgent Documents (automatic folder sorting, file renaming, custom property information, time stamping, etc.), documents can be deployed in Box in a strictly controlled state. This allows users in the field to utilize documents with additional information on the familiar Box screen.
Specific usage scenarios of the integration and benefits will be presented at updataDX22:

Date: 14 October 2022 15:00 to 15:30 (JST)
Title: Optimizing content management starting with electronic forms - Business efficiency and legal compliance realized with invoiceAgent + Box
Registration: https://info.wingarc.com/public/session/view/733 (Japanese) 
invoiceAgent Documents
invoiceAgent Documents is a document management solution that can distribute, store, and search all types of forms, as well as integrate with other systems. It provides secure electronic document management that complies with the Electronic Books Preservation Act and promotes cost reduction, enhanced governance, and a paperless office environment.
https://www.wingarc.com/product/ia/do (Japanese)
Contact on Products and Services:
WingArc1st Inc.
Roppongi Grand Tower, 3-2-1 Roppongi, Minato-ku, Tokyo106-0032, Japan
TEL : 81-3-5962-7300
FAX : 81-3-5962-7301
E-mail :
Inquiry on This Press Release:
WingArc1st Inc. PR team: Yamamoto, Nakatani, Iisaka, Furusho
TEL : +81 90 5391 1510 (Yamamoto) , +81 80 3006 2396 (Furusho)
E-mail :
*Company names and products names enlisted in this Press Release are trademarks or registered trademarks of each company.