Information security policy
In order to realize the WingArc's Core Value "Build the Trust", we are aware of our social responsibility with respect to the value (importance) of information・Data and the prevention of information・Data-related incidents. The Company will strive to appropriately manage and thoroughly protect information assets; consequently, we developed a system to ensure information security (ISMS). By focusing on client needs and the latest trends in IT, we endeavor to continuously improve information security.
The Company will establish, implement, inspect, and improve information security:
The Company will establish information security goals in compliance with our information security policy and define the direction of all matters involving information security;
The Company will comply with business requirements, statutory and regulatory requirements, and contractual obligations of information security;
The Company will develop the required organizational environment to establish and maintain information security and a system for risk management;
The Company will assess and manage risks in accordance with established standards;
The Company will implement appropriate management policies according to risk level and manage risks systematically through compliance with these policies by employees from the relevant sections;
The Company will review our policies to continuously improve information security and adapt to environmental changes.
June 1, 2018
WingArc1st Inc.
President
Jun Tanaka
About our information security management system (ISMS)
The Company acquired ISO/IEC 27001:2013 and JIS Q 27001:2014 certification.
WingArc1st Inc. was granted ISO 27001 certification on May 2, 2007. In order to build a system so that clients can use products and services from our company with a greater sense of confidence and peace of mind, we will promote initiatives for a heightened awareness of information security.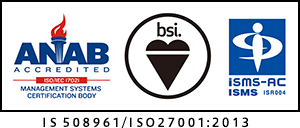 Outline of certification registration
Certification standards
ISO/IEC 27001:2013
JIS Q 27001:2014
Certification registration number
IS 508961
Certification registration scope
(1)Sales of software products and providing services including support, consulting and implementation of the products to business and public organizations.
(2)Sales and providing Professional service and Cloud service to business and public organizations.
Date of first registration
May 2, 2007
Inspection and registration body
BSI Group Japan K.K.
Certification bodies: ANAB (The American National Standards Institute (ANSI) - American Society for Quality (ASQ) National Accreditation Board)
Japan Institute for Promotion of Digital Economy and Community (JIPDEC)