Main features
High Speed Aggregation
Dr.Sum database engine has proprietary technology that enables high speed analysis. Users can dynamically execute multidimensional aggregation without the need to create cubes. Because difficult tasks requiring technical expertise such as predefining cubes and indices are not necessary, time needed to create new analysis is reduced dramatically, contributing to a shortening of PDCA cycles.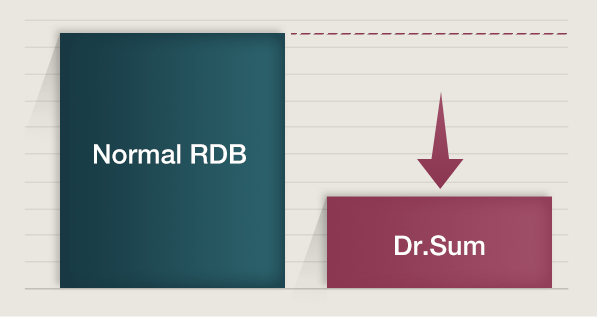 Data Integration
Dr.Sum connects and integrates data from various data sources, ERPs and information systems, making it an information platform.

Excel Interface
Excel is a familiar application that every white-collar business person uses. Dr.Sum not only can import data from Excel, but also use Excel as an interface to aggregate and analyze data. Users experience little disruption between every day analytics which is done by Excel and large data volume analytics which is done by Dr.Sum.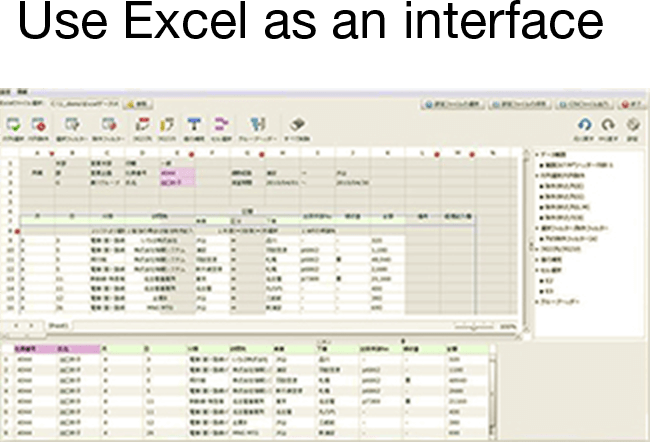 Operability
Users can intuitively operate Dr.Sum without having to learn technical knowledge thanks to GUI. Everyone in the organization can take full advantage of Dr.Sum to analyze data and discover findings.

Affordable Licensing
Dr.Sum is provided as server license. That means the organization can scale up the platform without adding license cost even when number of user increase. In addition, no programming is required to develop new analyses. That would help bring down the cost of the system, not only initial cost but also a running cost. Because users can continue to use familiar Excel interface, time needed to train the system is short and increase adoption rate.
For details, please click