Newsroom
Jan 14, 2021



Press Release
WingArc1st announces distribution partnership with PT Sazanka Henig Solusi, an Indonesia-based IT solution Company
Providing Dr. Sum and MotionBoard to Indonesian market through Sazanka to promote data utilization centered on Japanese manufacturing industries
WingArc1st Inc.
TOKYO, January 14, 2021 -- WingArc1st Inc. (WingArc1st), the Data Empowerment Company, today announced that WingArc Singapore Pte. Ltd., a local subsidiary in Singapore, and PT. Sazanka Henig Solusi, Indonesia-based IT solution company, have entered into a distribution partnership agreement.
With this agreement, "MotionBoard" and "Dr.Sum", a BI (Business Intelligence) tool and data infrastructure solution provided by WingArc1st, have been distributed in Indonesian market.
Headquartered in Tokyo, WingArc1st develops and distributes products that manage to hold top market share in Japan for Business Form Infrastructure Solutions as well as the Data Empowerment Business with BI tools*1.
WingArc1st has always regarded expanding their businesses overseas as one of the growth strategies and they have established WingArc Shanghai Inc. in 2009, WingArc Singapore Pte.Ltd. in 2014 and they have also acquired "Space-Time Research," a company based in Australia specializing in BI tools for Australian Bureau of Statistics, in order to strengthen their businesses in Asia-Pacific.
Indonesia has a population of approximately 270 million, which accounts for more than 40% of the total population in ASEAN, and more than twice the population of Japan. Real GDP is growing more than 5% range, and nominal GDP is one of the largest in ASEAN. The number of Japanese local corporations is growing and there are currently about 1,490 corporations*2. As for IT industry, a number of data centers are being newly established, and the area is known for its high demand for data utilization and DX solutions.
Established in Indonesia in 2016, Sazanka provides data analysis and visualization solutions as well as solutions for financial consolidation and RPA (Robotic Process Automation). Aiming to introduce innovative IT technology from Japan to Indonesian market, they have been providing IT solutions to various customers such as PT. Toyota-Astra Motor, PT. Nichirin Indonesia, and PT. GS Battery. Japan is world-renowned for developing products with high attention to details and rich functionalities, and Sazanka gives a reason for adopting WingArc1st's BI tools as its abundant functionalities such as 3D map, real-time monitoring and write-back capability.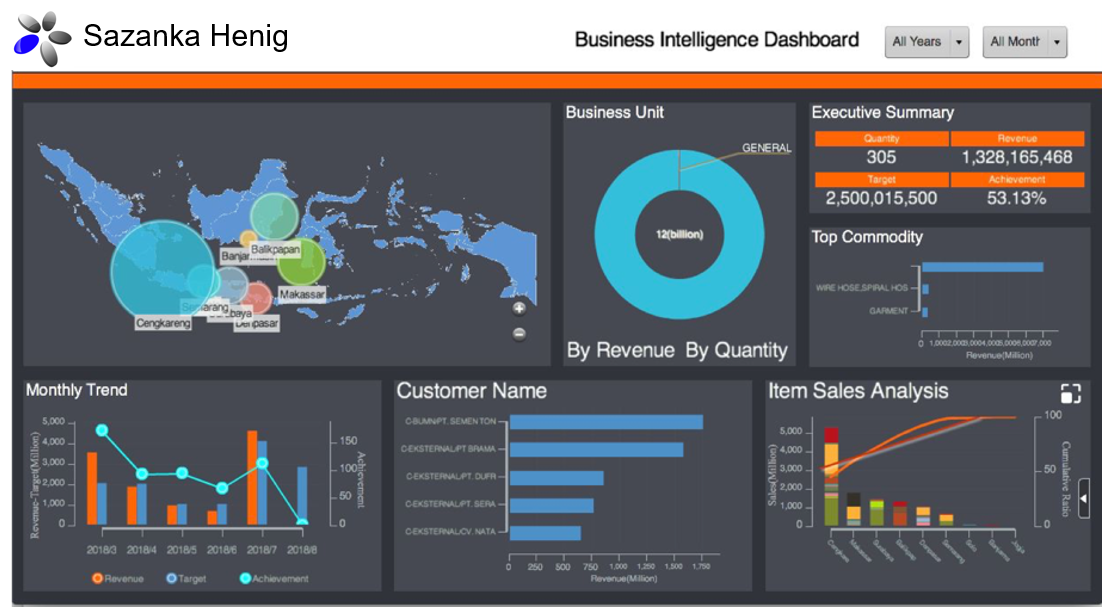 Through this distribution partnership with Sazanka, WingArc1st will contribute to promote DX in the Indonesian market by providing data utilization solutions, centering around on Japanese manufacturing industries.
Quotes
Jun Tanaka, CEO, WingArc1st Inc.
We are very pleased that our "Dr.Sum" and "MotionBoard" will be distributed by Sazanka in Indonesia, which is one of the fastest growing countries in ASEAN. We believe that incorporating Japanese IT technology will have a great impact, leading various companies to further solidify their business foundations.

Henry Affandy, Director, PT. Sazanka Henig Solusi
Data utilization and business process automation are the keys in driving productivity, efficiency, and growth in Indonesia. WingArc1st has a range of BI tools which are very well positioned to fill these two areas. This partnership will further strengthen our relationship and bring us closer together to provide Japanese innovative IT technology in Indonesia.

About PT. Sazanka Henig Solusi
Company Name: PT. Sazanka Henig Solusi
Established in 2016
Director: Henry Affandy
Business Overview: Introduce innovative IT technology from Japan to Indonesia market, and provide full cycle of IT solution focused on data utilization and business process automation.
HP:https://www.sazankahenig.com/
*1 Source: Our estimate data based on Fuji Chimera Research Institute "Software Business New Market 2019 Edition"
*2 Source: JETRO "List of Japanese companies expanding into Indonesia" January 2020"
Contact on Products and Services:
WingArc1st Inc.
Roppongi Grand Tower, 3-2-1 Roppongi, Minato-ku, Tokyo106-0032
TEL : 03-5962-7300
FAX : 03-5962-7301
E-mail :
Inquiry on This Press Release:
WingArc1st Inc. PR team: Yamamoto, Nakatani, Iisaka, Furusho
TEL : +81 90 5391 1510 (Yamamoto) , +81 80 3006 2396 (Furusho)
E-mail :
*Company names and products names enlisted in this Press Release are trademarks or registered trademarks of each company.