Functions - Connect
MotionBoard is a BI dashboard that transforms corporate data to valuable business insights. Discover what it can do for you.
Connect with diverse data sources
Use everything from Excel files to big data
MotionBoard is compatible with wide-ranging data sources. You can choose the processing method that best suits your business. Direct connections allow data visualization in real time and bulk data can be processed in-memory at high speed.
Databases

HiRDB
IBM Db2
IBM Db2 for i
Microsoft Azure SQL Database
Microsoft SQL
MySQL
Oracle
Oracle RAC
PostgreSQL
DWHs

Dr.Sum / Dr.Sum EA
Amazon Aurora
Amazon Redshift
Enterprise DB
FUJITSU Symfoware Server
FUJITSU Software Symfoware Analytics Server
Greenplum
HAWQ
HiRDB
HADB
HP Vertica
IBM PureData System
IBM Infomix Server
MariaDB
Oracle Exadata
SAP IQ
SAP SQL Anywhere
SAP HANA
Teradata
Tibero
Treasure Data
Services

Dr.Sum Datalizer / Dr.Sum EA Datalizer
Apache Spark
Google Analytics
Red Hat JBoss
Cloud storages

Amazon S3
Box Business/Enterprise
Dropbox for Business
Google Drive for Work
OneDrive for Business
Files
Use Dr.Sum as your front database for a solid BI platform with super fast in-memory data processing.

Collaborate seamlessly with Salesforce
Salesforce MotionBoard Cloud for Salesforce puts a tab in your Salesforce screen for instant access to various expressive features. Salesforce data can be used in real time via API link. Data from multiple objects or sources other than Salesforce can also be used.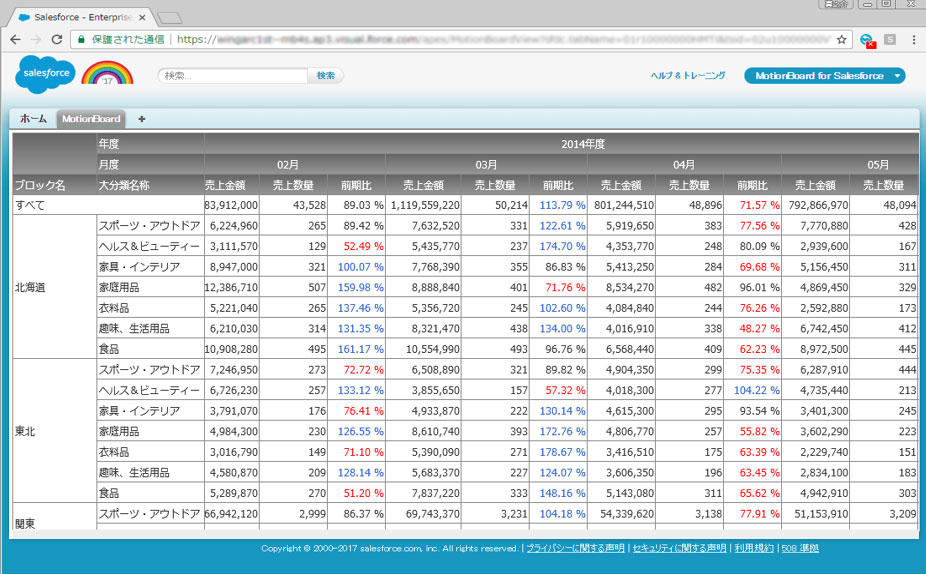 Combine data from multiple sources
Data from multiple sources or systems can easily be combined for display in a single dashboard.

Input data through Excel - without reorganizing
You can use Excel to input and edit data while using MotionBoard for aggregation, visualization and analysis. When you update Excel files, MotionBoard data is automatically updated via standard MotionBoard Agent (app) or optional MotionBoard Bridge Service. Since MotionBoard aggregates your data, there's no need to change the existing Excel files.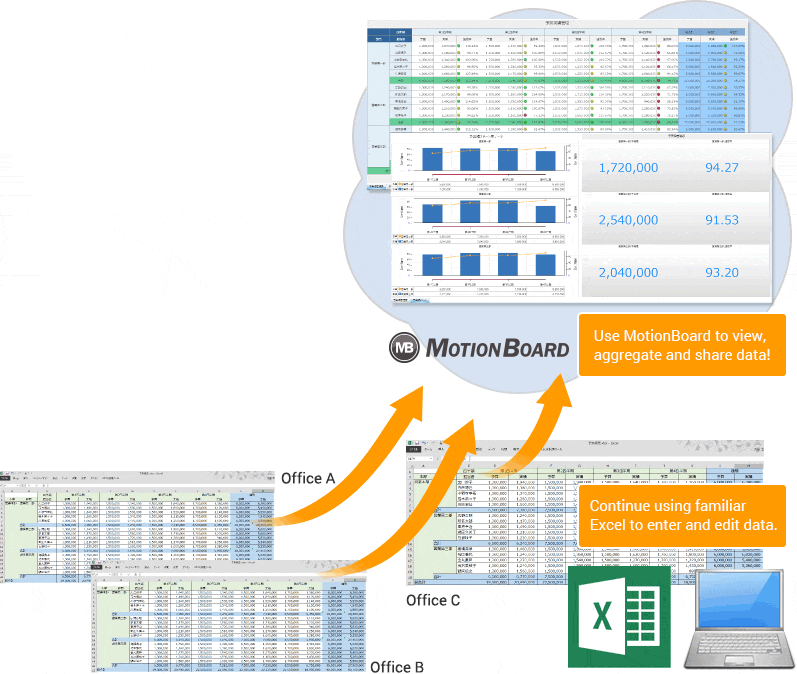 Link on-premise and cloud easily and securely
MotionBoard Bridge Service lets you use data from various in-house databases without sending it to the cloud. It eliminates the need to build leased-line or VPN infrastructure and is easy to introduce without VPN technical expertise.