Maximize the value of documents by the document one-stop solution from storage to distribution.
State-of-the-art Document Management Solution
SPA improves an operational efficiency and enhances a collaboration between companies
by digitalized document to the data using technologies provided by WingArc1st.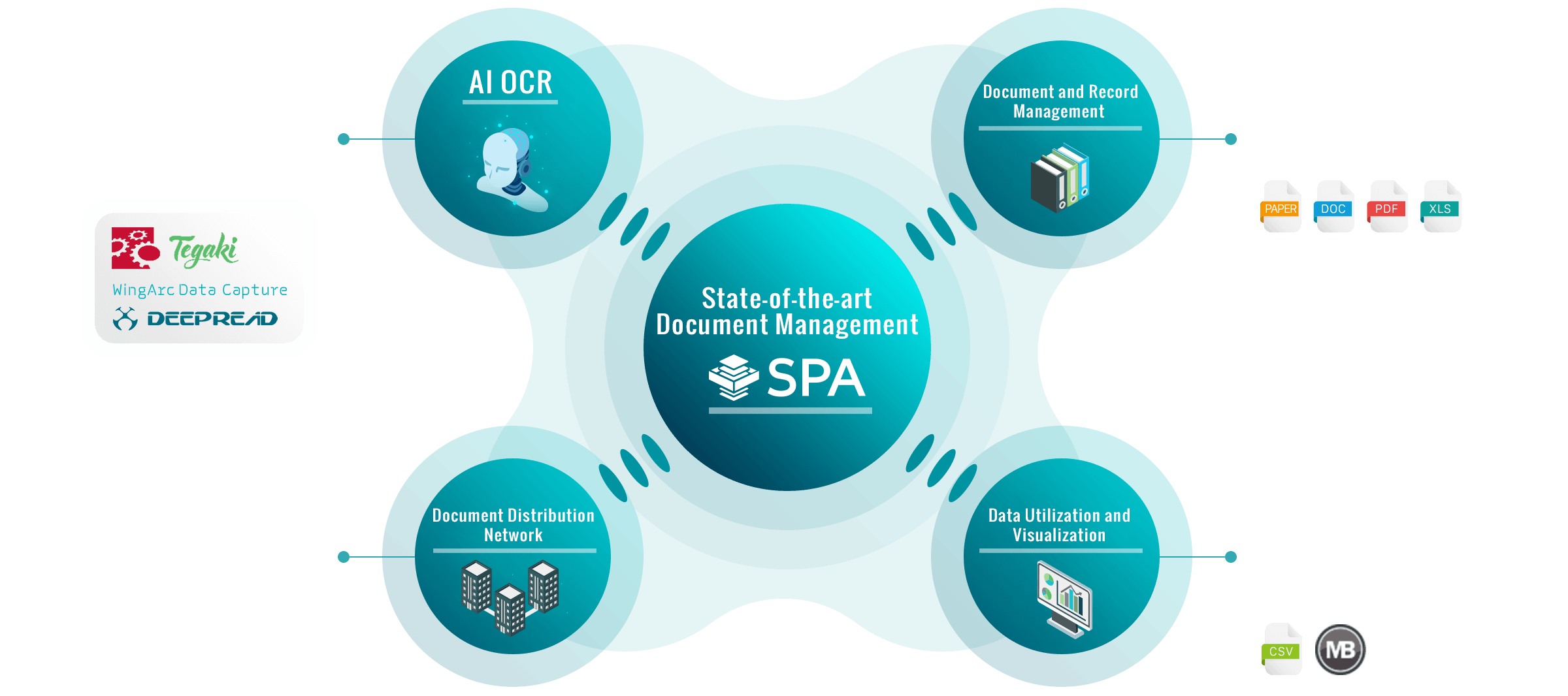 Key Features
All-in-one solution combining AI OCR and document management.
Faster and more accurate with AI OCR
aimed at full automation

AI OCR doesn't reach 100% accurate but SPA enables to maximize a capability of AI OCR and an operational efficiency by Data Compare function.

Enhancement by AI technology

4 high-precision OCRs

Automatic Verification and Correction work

Effect Measurement by statistical data

In addition to increasing the recognition rate by utilizing high-precision AI OCR, it is possible to operate with the aim of fully automating visual and confirmation work by data comparison.

Choose from 4 AI OCR engines to suit your needs

SPA provides 4 OCR engines the most suited for digitizing a document.

Processes more than 9.3 billion pages of documents annually

Used in more than 200 countries

Supports a wide range of Japanese character codes

Converts checkboxes and enclosed characters to data

99.2% recognition rate by the unique OCR engine

Supports numbers, alphabets and Japanese characters

Converts handwriting to text

Supports a character with a ruled line

Internal Control and Security Assurance by document management and record management

Automatic capture and sorting

・Automatically store into SPA both a self-created document and a document generated from other systems
・Monitor specific folders, and automatically import to SPA based on set rules and save as easily referenced file names

Document Version Control and Record Management

・Used for the record management of documents that have a retention period stipulated by Japanese law, such as receipts, registrations, and litigation documents
・Supports to record a revision history from creation to destruction, and automatically deletes documents once the retention period lapses

Document data distribution that enhances cooperation between companies

Federation enables document sharing between SPAs, such as document preview and search. With this function, business transactions between companies can be performed more smoothly.

Data Analysis and Visualization

By visualizing data using BI tools, it is possible to identify the scope of work, the recognition rate for each documents and the work time, which is useful for business analysis.

Third-Party Integration

Collaborate with third-party services to maximize the value of digitized documents.