Features
Introducing features that improve operational efficiency and legal compliance
related to document management.
invoiceAgent

Documents
invoiceAgent Documents automates the complex work involved in document and record management.
It also reduces management costs and improves the quality of internal control.
01
User-friendly interface and accurate search capabilities
Easy to operate and ready to use
The familiar Explorer-like interface makes it easy to find and retrieve documents.
You can also preview documents on the screen.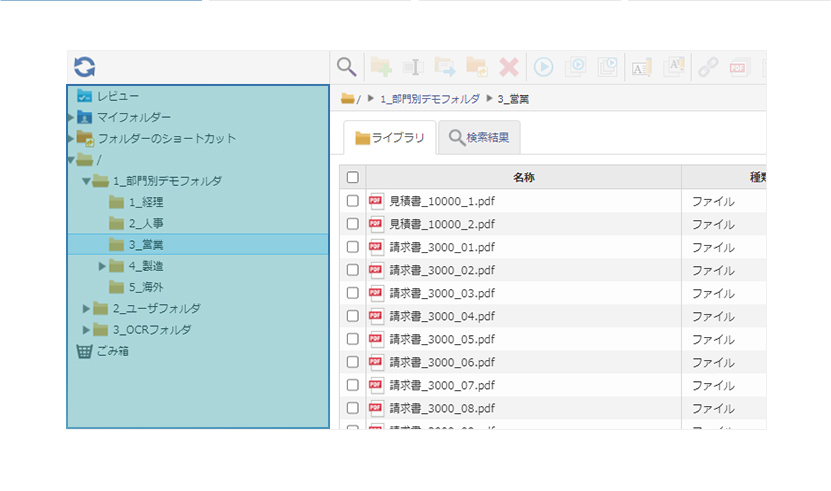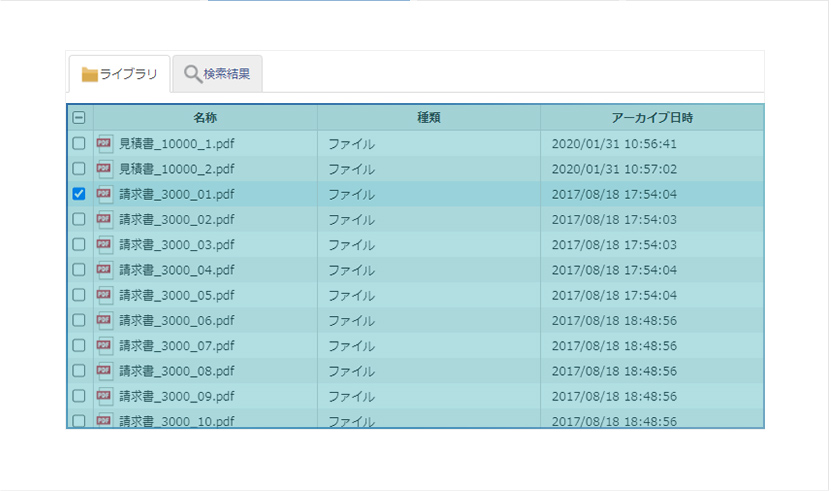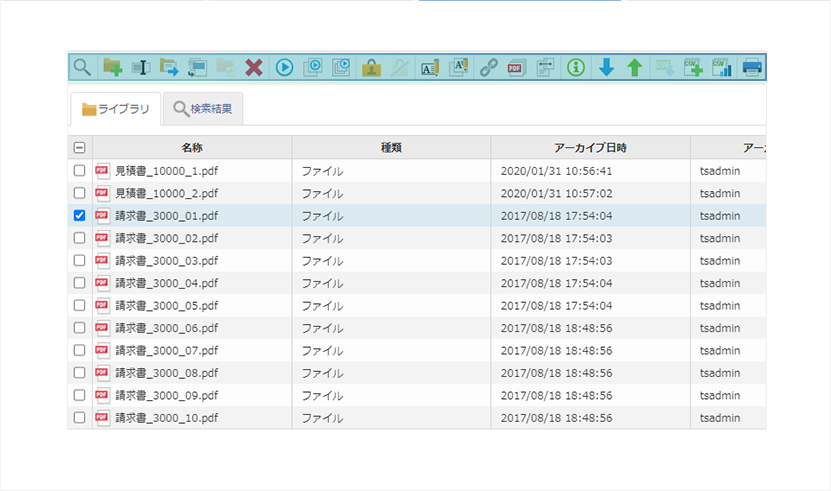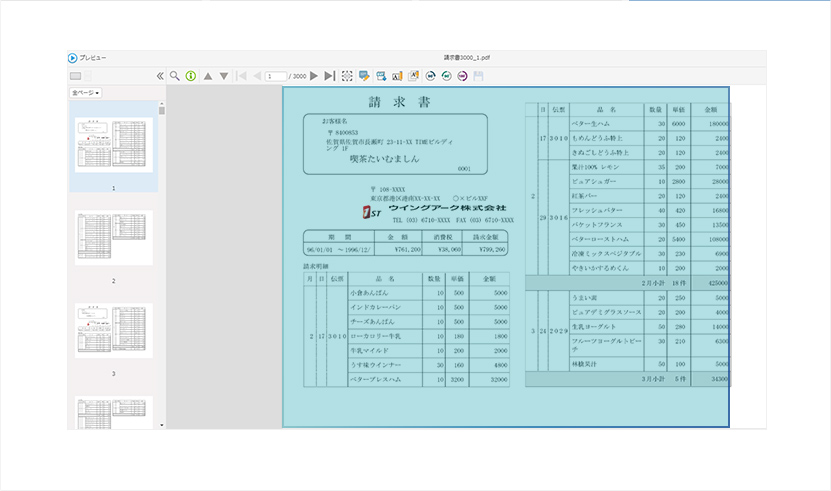 Accurate search function
In addition to full-text search, invoiceAgent Documents can also execute partial match and range search by text, numbers and dates.
This makes it easy to fulfill corporate responsibilities concerning the digital storage of documents and records stipulated by various laws and regulations.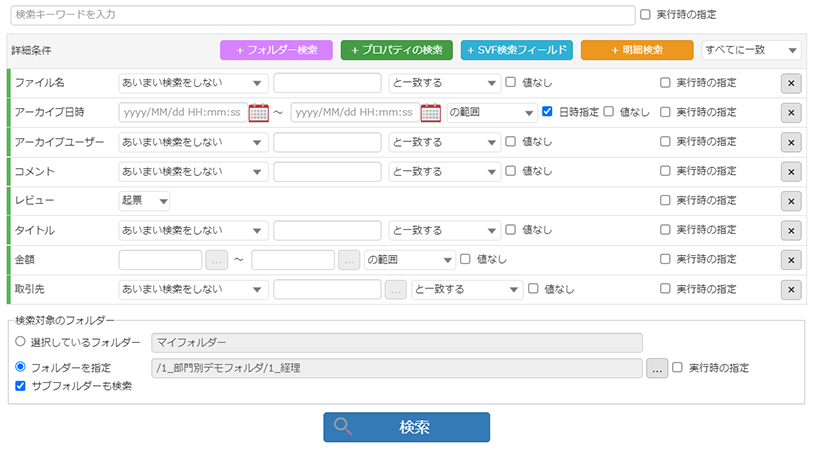 02
Automatic import and sorting of documents
Automatic import
Automatically save (archive) created documents and documents output from other systems. Monitor specified folders, import based on set rules and save with easily referenced file names.
Monitor specified folders, import based on set rules and save with easily referenced file names.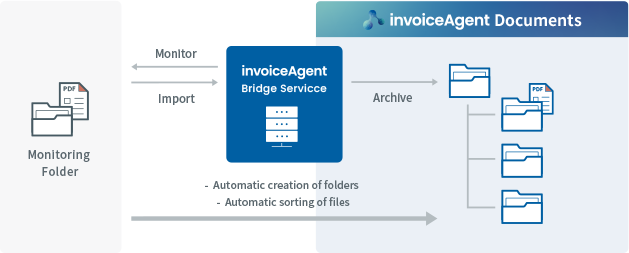 Files that can be archived in
invoiceAgent Documents
PDF, image files (BMP/JPEG/PNG/TIFF), Microsoft Office files,
text files, documents spooled to RDE
Automatic sorting
Automates sorting rules used when filing paper documents.
invoiceAgent Documents reads conditions such as dates, numbers and text from PDF files,
Office files and images and then sorts documents using these conditions into specified folders.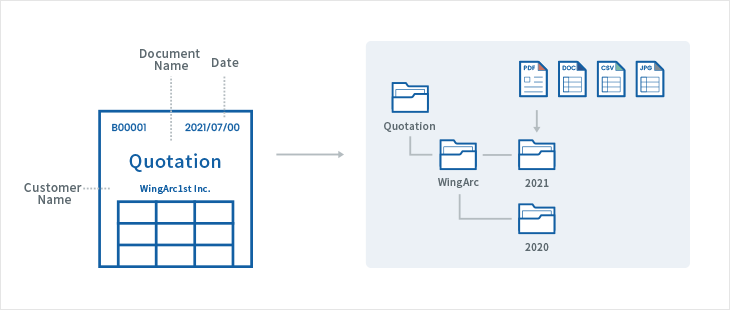 Information that can be used for automatic sorting
File name
File name
System date
Date of import
PDF properties
PDF properties (title, author, etc.)
SVF search fields
Field value output by SVF
RDE document information
Properties of the source RDE document
(document name, print date, document management number, etc.)
OCR
Data acquired by OCR from a PDF file or image file
03
Document security and

lifecycle management
Documents are created and used for many operations, and are either stored or destroyed afterwards.
Documents that have a retention period stipulated by law, such as receipts,
registrations, and litigation documents, must be properly retained and disposed of as appropriate.
invoiceAgent Documents automates operations, maintaining a history from document creation
to destruction, and automatically deletes documents once the retention period lapses.

Versatile security controls
Users can make detailed settings for functions such as file passwords, printing restrictions,
addition of watermarks, and masking specific areas without altering the original PDF.
Users can also enable e-signatures.

Flexible operation of virtual documents
Users can process documents as virtual PDFs (a shortcut on invoiceAgent Documents) without modifying the original document.
Multiple documents can be combined into one file
or multiple pages can be separated into individual files.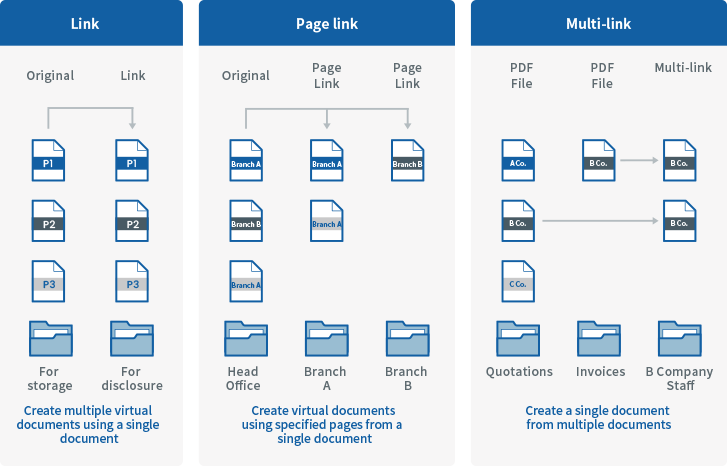 Document version control / Multi-level review
With invoiceAgent Documents' document version control, users can view and restore past versions of documents as well as view the latest versions.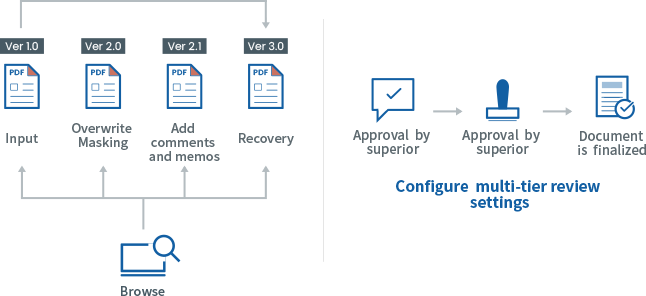 04
Other document management functions
Save original file in Box

Users can store original documents imported into invoiceAgent Documents in Box, the cloud content management platform. This enables Box users to use the timestamp, AI OCR, and other functions.

Reference document properties by sorting files after storing in invoiceAgent Documents

After files are stored in invoiceAgent Documents, they may need to be moved due to organizational changes or changes in document status. You can extract and sort the files to be moved by referring to document properties.

Convert non-PDF files to PDF and store as originals

When storing fixed transaction documents created in Word or Excel, you can convert these files to PDF, add long-term-signatures and time stamps, and save them so that they cannot be edited before sending them to business partners. Original Office files can be stored with the PDF files. Both can be downloaded by clients.